Product details
Step 1: This cleanser is an effective remedy for damaged and dyed hair that needs special care. The 97% naturally derived formula contains a repairing complex composed of botanic seed extracts and 18 Amino Acids as well as Argan Oil.

Step 2: This lightweight, hydrating conditioner works to reverse hair damage caused by lack of moisture, too much heat, and chemical styling treatments without weighing it down. Blended with a dose of essential deep conditioners that revive your damaged hair from dry, coarse, and brittle to silky, smooth, and shiny.

Step 3: This hair cap generates steam, enabling your hair cuticles to open and absorb all the nutrients as they penetrate into the scalp and hair. A high-performance system of ingredients infuses nutrients into every strand while collagen and hydrolyzed protein deeply penetrates to plump, thicken, and amplify volume.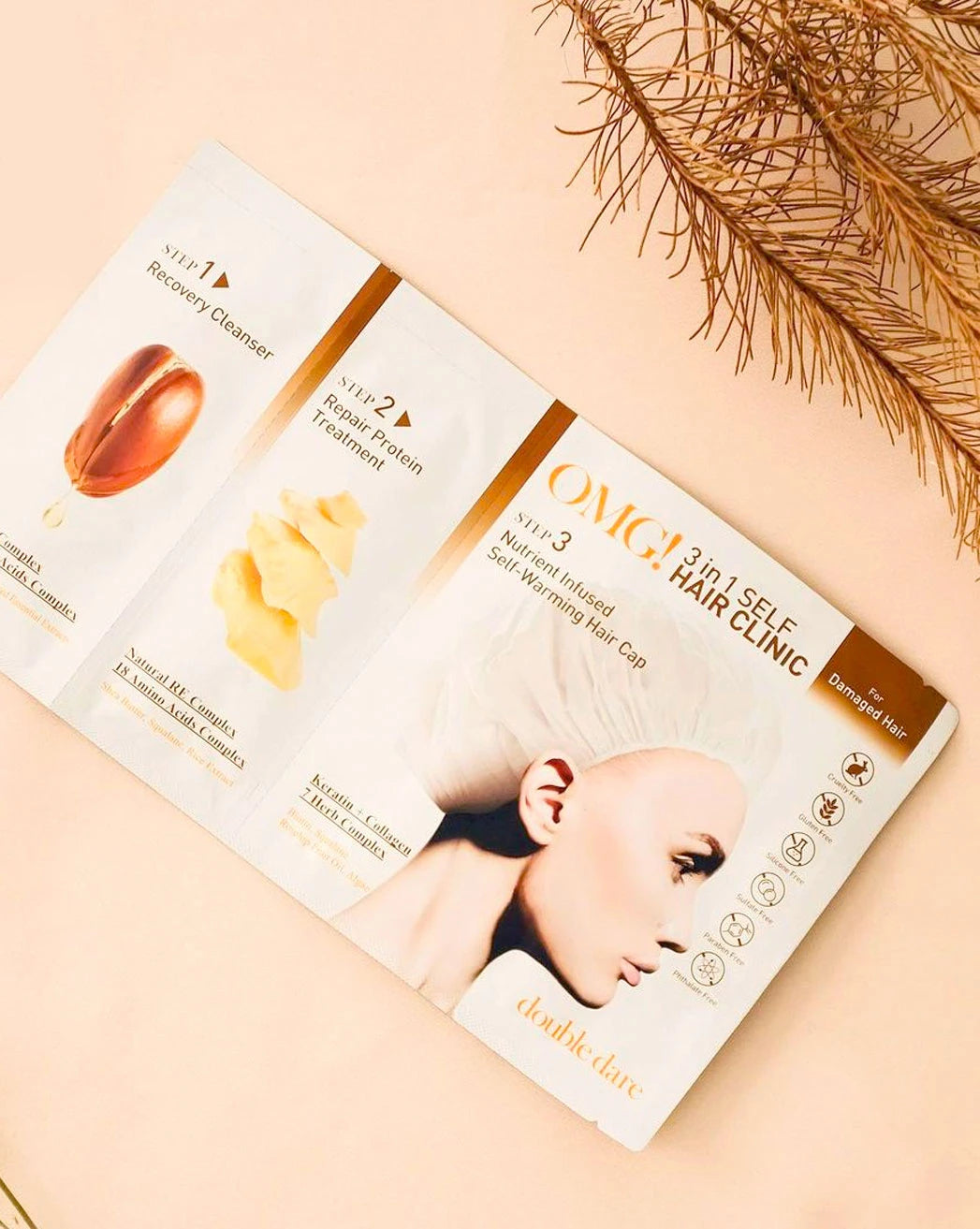 HOW TO USE
STEP 1
Thoroughly wet hair from roots to ends with lukewarm water. Dispense cleanser into hands and work into a lather. Massage into scalp, focusing on problem areas. Leave cleanser in for 1-3 minutes to remove dirt, and sebum. Rinse well and follow up with steps 2 and 3.

STEP 2
After cleansing with Step 1, apply to damp hair focusing on problem areas. Massage for at least 1-2 minutes and proceed with Step 3.

STEP 3
After applying Step 2, place nutrient infused Self-Warming Hair Cap over head covering all of hair. Gently press and rub the hair cap into hair to evenly distribute the Collagen + Keratin. Wait for 10 - 30 minutes. Remove the cap and rinse hair well with lukewarm water.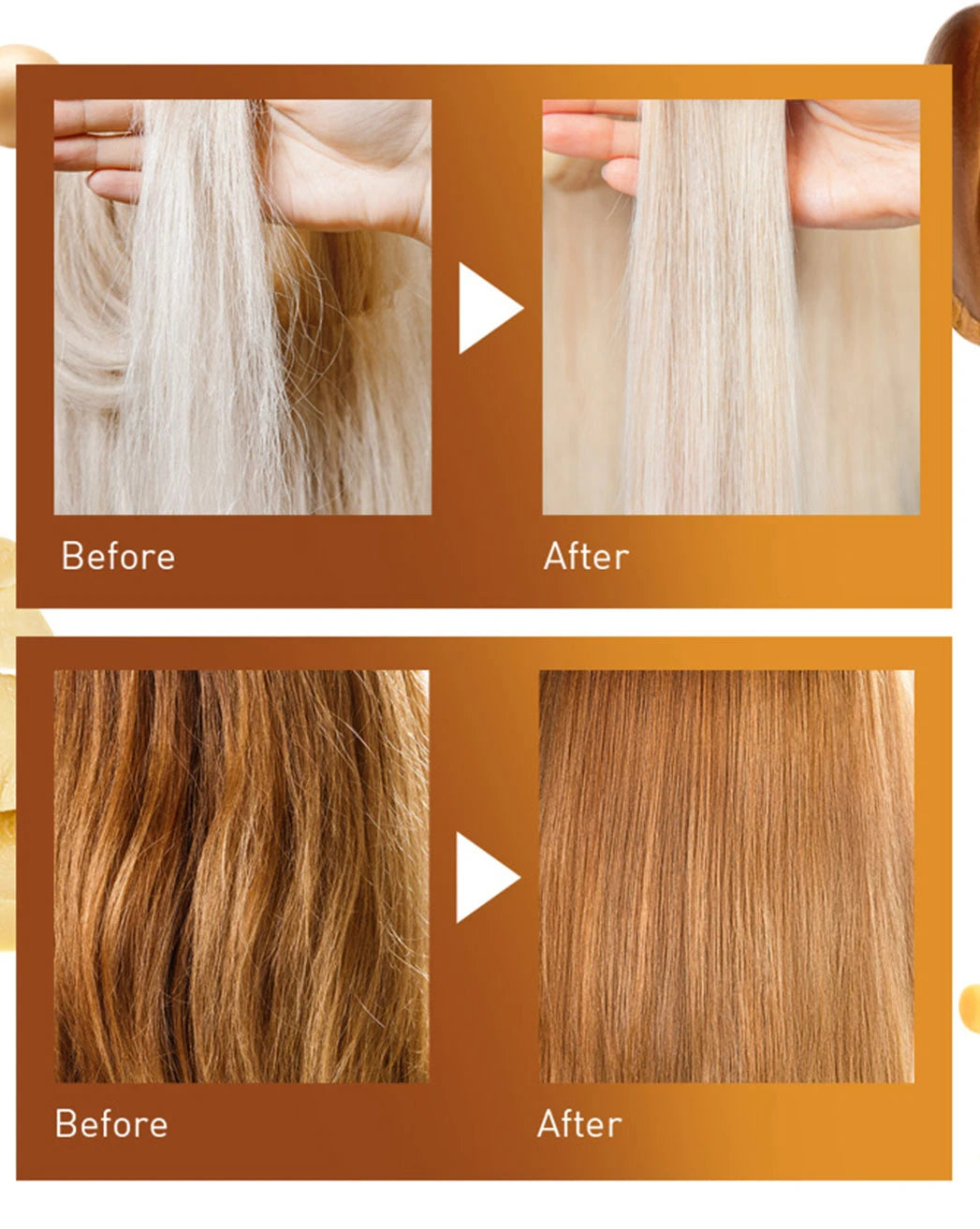 KEY INGREDIENTS
EED V COMPLEX
Soothe your scalp, reduce breakage, nourish damaged hair

18 AMINO ACIDS COMPLEX
Smooth cuticle and boost shine

NATURAL RE COMPLEX
Detoxify, cleanse and protect for healthier looking hair

18 AMINO ACIDS COMPLEX
Smooth cuticle and boost shine

KERATIN
Rebuilds and strengthens, and makes hair silky

GINSENG COLLAGEN
Leaving hair with the perfect balance of texture and shine

7 HERB COMPLEX
Revitalizes, restores and softens damaged hair
FULL INGREDIENTS
1. RECOVERY CLEANSER
WATER, DISODIUM LAURETHSULFOSUCCINATE, LAURYL GLUCOSIDE, LAURYL BETAINE, GLYCERIN, COCAMIDE MIPA, SODIUM CHLORIDE, POLYQUATERNIUM-10, DIPROPYLENE GLYCOL, 1,2-HEXANEDIOL, COCO-GLUCOSIDE, HYDROXYACETOPHENONE, FRAGRANCE, DISODIUM COCO-GLUCOSIDE CITRATE, CITRIC ACID, SALICYLIC ACID, PANTHENOL, NIACINAMIDE, BUTYLENE GLYCOL, DISODIUM EDTA, SODIUM COCOYLALANINATE, CENTELLAASIATICA EXTRACT, PPG-14 BUTYL ETHER, GLYCINE SOJA (SOYBEAN) SEED EXTRACT, PHASEOLUSRADIATUS SEED EXTRACT, PHASEOLUSANGULARIS SEED EXTRACT, PHASEOLUS VULGARIS SEED EXTRACT, PISUMSATIVUM (PEA) SEED EXTRACT, GLYCINE, SERINE, GLUTAMIC ACID, ARGANIASPINOSA KERNEL OIL, ASPARTIC ACID, LEUCINE, ALANINE, LYSINE, ARGININE, TYROSINE, PHENYLALANINE, PROLINE, THREONINE, VALINE, ISOLEUCINE, HISTIDINE, CYSTEINE, METHIONINE

2. REPAIR PROTEIN TREATMENT
WATER, BEHENTRIMONIUM CHLORIDE, CETYL ALCOHOL, CETEARYL ALCOHOL, BUTYLENE GLYCOL, STEARAMIDOPROPYLDIMETHYLAMINE, ISOPROPYL ALCOHOL, SQUALANE, DICAPRYLYL CARBONATE, 1,2-HEXANEDIOL, STEARYL ALCOHOL, PANTHENOL, MYRISTYL ALCOHOL, HYDROXYETHYLCELLULOSE, CITRIC ACID, LAURYL ALCOHOL, DISODIUM EDTA, ETHYLHEXYLGLYCERIN, SODIUM COCOYLALANINATE,PROPANEDIOL, ORYZA SATIVA (RICE) EXTRACT, GLYCERIN, LACTOBACILLUS/SOYBEAN FERMENT EXTRACT, LACTOBACCILLUS/PEAR JUICE FERNENTFILTERATE LACTOBACILLUS/ PUNICAGRANATUM FRUIT FERMENT EXTRACT,SACCHAROMYCES/BARLEY SEED FERMENT FILTRATE

3. NUTRIENT INFUSED SELF-WARMING HAIR CAP
WATER, PROPYLENE GLYCOL, 1,2-HEXANEDIOL, PEG-60 HYDROGENATED CASTOR OIL, HYDROXYETHYLCELLULOSE, FRAGRANCE, PANTHENOL, SQUALANE, ROSA CANINA FRUIT OIL, ETHYLHEXYLGLYCERIN, DISODIUM EDTA, BUTYLENE GLYCOL, HIZIKIAFUSIFORME EXTRACT, UNDARIAPINNATIFIDA EXTRACT, LAMINARIA JAPONICA EXTRACT, GELIDIUMCARTILAGINEUM EXTRACT, HYDROLYZED KERATIN, MELALEUCAALTERNIFOLIA (TEA TREE) LEAF EXTRACT, MENTHAPIPERITA (PEPPERMINT) LEAF EXTRACT, EUCALYPTUS GLOBULUS LEAF EXTRACT, ORIGANUMVULGARE LEAF EXTRACT, PELARGONIUM GRAVEOLENS EXTRACT, MELISSA OFFICINALIS LEAF EXTRACT, LAVANDULAANGUSTIFOLIA (LAVENDER) FLOWER EXTRACT, HYDROLYZED GINSENG SAPONINS, BIOTIN