O₂ Bubble Mask & Cleanser
Our O₂  Bubble Mask & Cleanser removes what you don't want, and keeps what you do: hydration! Wash away the day with this detoxifying cleanser that minimizes the appearance of pores and instantly brightens skin. Containing acai berry and tea tree oil extracts, it's brimming with antioxidants to help fight free radicals while nourishing skin. Glycolic and hyaluronic acid combine to both exfoliate and hydrate, while lactic and citric acid remove toxins and visibly smooth skin. Formulated for all skin types, use in the AM and PM as the first step in your skincare routine.
Product details
HOW TO USE
Step 1: Evenly apply a generous layer onto cleansed face.
Step 2: Wait a few seconds for gel to transform into foam.
Step 3: Leave mask on for 5 to10 minutes.
Step 4: Rinse well with warm water.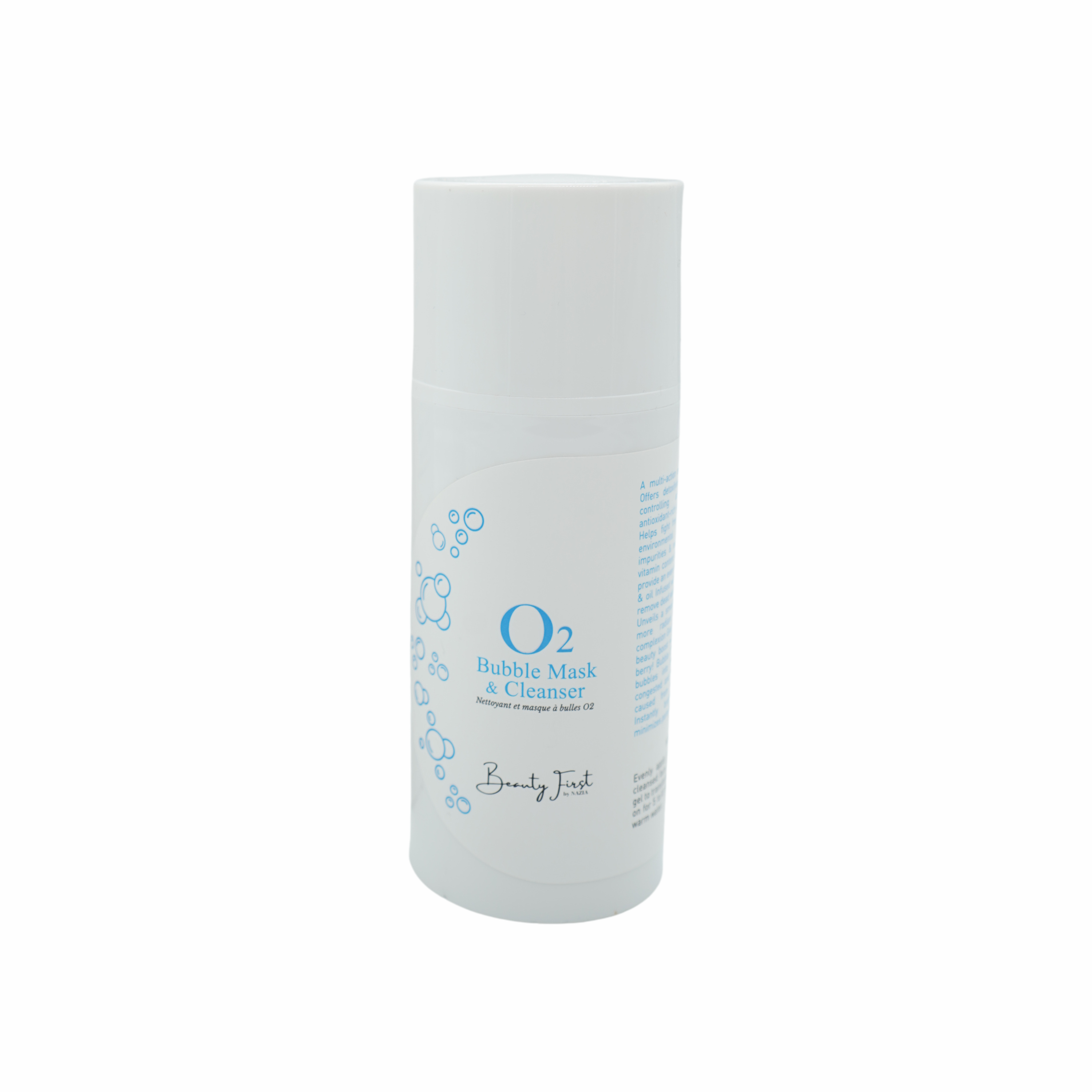 Benefits
Detoxifying
Powered by antioxidants of Acai berry and tea tree oil, these properties fight free radicals and neutralize environmental damage, detoxifies impurities and nourishes skin with high vitamin content.
Pore Controle Derived from sugar cane, Glycolic acid provides an even exfoliation, absorbs sebum and oil while minimizes the appearance of pores. The Hyaluronic Acid hydrates the skin with oil-free moisture. 
Instant Brightener Contains Lactic and citric acid, the blend is designed to help remove dead skin cell and toxins from the skin, making skin smoother and visibly brighter.
FULL INGREDIENTS
INGREDIENTS: Aqua, Glycerin, , Acrylates Copolymer,Sodi-um Laureth Sulfate, Ethyl Perfluorobutyl Ether, Ethyl Perfluoroisobutyl Ether, Disodium Cocoamphodiacetate, Stearami-dopropylDimethylamine,Cocamidopro-pylBetaine, Polyhydroxystearic Acid, Sodium Lauryl Sulfate, TEA-Cocoyl Glutamate, Cocamide MEA, 1,2-Hexanediol, Methyl Perfluorobutyl Ether, Methyl Perfluoroi-sobutyl Ether, Ethylhexyllsononanoate, Isononylisononanoate, Betaine, Algin,Sodi-um Cocamidopropyl PG- Dimonium Chloride Phosphate, Cetvl Alcohol, Sodium Chloride, PEG-7 GlycerylCocoate, Allantoin, Butylene Glycol, Dioscorea Japonica Root Extract, Parfum, Lauryl Alcohol, Sodium Sulfate, Hydrolyzed Corn Starch, Disodium EDTA, Beta-Glucan, LavandulaAngustifo-lia(Lavender) Extract, Sucrose, Melaleuca Alternifolia(Tea Tree) Leaf Oil, Hyaluronic Acid, EuterpeOleracea Fruit Extract, Lactic Acid, Ethythexylglycerin, Citric Acid, PCA, Glycolic Acid, Malic Acid, Pyruvic Acid, Tartaric Acid